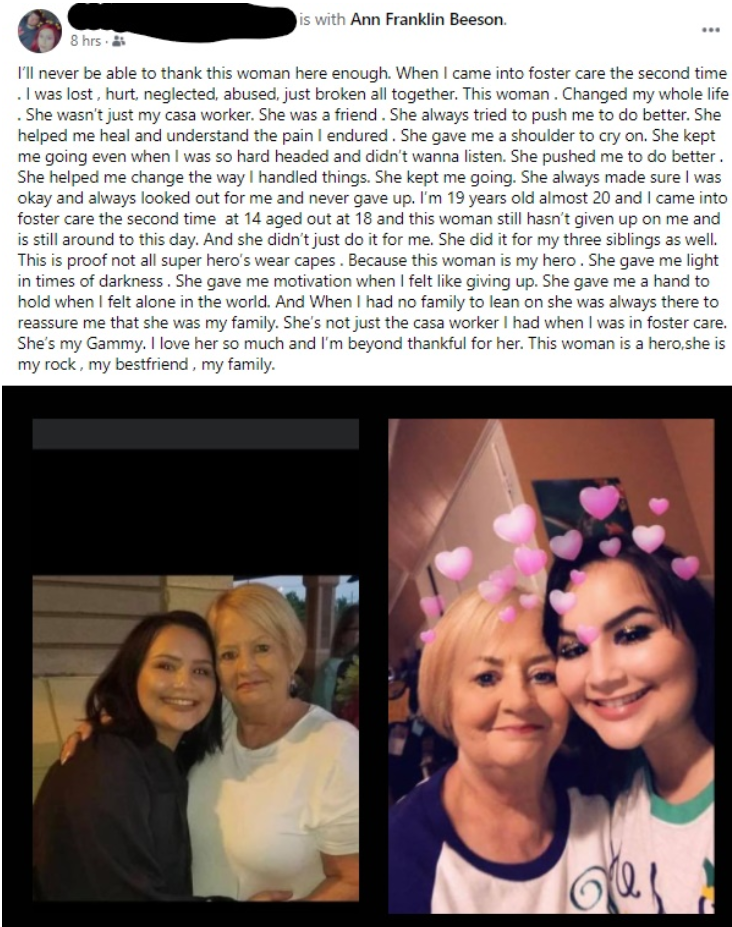 Our Advocate Supervisors and staff sees the greatness in our volunteers and the work they do every day. We try to make it a point to let the volunteers know how much they are appreciated and how much of a difference they are making in the lives of their CASA children. But when their CASA child, who they have been working with for many years, recognizes the effort and verbalizes the impact you have had on their life, it makes that recognition that much sweeter. 
In a recent Facebook post, Ann's former CASA child shared her gratitude for having Ann in her life. She is not only her CASA but for becoming her "Gammy". Now, nearly 20 years old, Ann is still part of her life and still cheering her on. 
I'll never be able to thank this woman here enough. When I came into foster care the second time - I was lost, hurt, neglected, abused, just broken all together. This woman, Changed my whole life. She wasn't just my casa worker. She was a friend. She always tried to push me to do better. She helped me heal and understand the pain I endured. She gave me a shoulder to cry on. she kept me going even when I was so hard-headed and didn't wanna listen. She pushed me to do better. She helped me change the way I handled things. she kept me going. She always made sure I was okay and always looked out for me and never game up. I'm 19 years old almost 20 and I came into foster care the second time at 14 aged out at 18 and this woman still hasn't given up on me and is still around to this day. And she didn't just do it for me. she did it for the three siblings as well. This is proof not all super hero's wear capes. Because this woman is my hero. She gave me light in times of darkness. She gave me motivation when I felt like giving up. She gave me a hand to hold when I felt alone in the world. And when I had no family to lean on she always there to reassure me that she was my family. She's not just the casa worker I had when I was in foster care. She's my Gammy. I love her so much and I'm beyond thankful for her. This woman is a hero, she is my rock, my best friend, my family. 
Mrs. Ann, you are an angel on earth, and CASA of Terrebonne is lucky to have you as a volunteer and friend. Know that you are making a huge difference even when you are having a hard time seeing your impact.
Keep fighting, keep going, keep the faith and never give up!
Keep pushing your CASA kids to greatness! You are a superhero! 
*CASA of Terrebonne was given permission to share original Social Media post by the publisher*