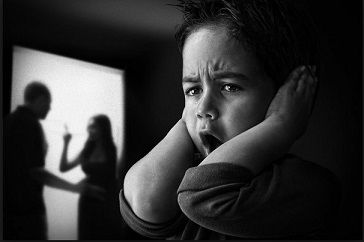 October is National Domestic Violence Awareness Month. Domestic Violence is an epidemic that millions of men, women, and children face including some of our children we serve at CASA of Terrebonne.
Advocating for these children means acknowledging they faced more than the trauma, abuse or neglect that brought them into the system. Domestic Violence affects every race, religion, culture, and status. It's not just punches and black eyes - it's yelling, humiliation, stalking, manipulation, coercion, threats, and isolation. It's stealing a paycheck, keeping tabs online, non-stop texting, constant use of the silent treatment, or threatening to lose custody of your child if you try to leave the relationship.

Witnessing violence is not simply a passive act. A child may be isolated, humiliated, threatened and denied basic needs like healthcare or food. A child who witnesses the violence is in danger of being pushed into the middle of the violence and is at risk of being physically injured. 

In Louisiana, the rate of women murdered by men has increased for the sixth consecutive year, according to The Washington, D.C. based Violence Policy Center's 2019 report. The 2019 report, which analyzes homicides committed in 2017, ranks Louisiana 2nd in the nation. The report also reveals that Louisiana's rate of women murdered by men is more than twice the national average, at 2.64 homicides per 100,000 families.

Domestic Violence may not be the main reason our CASA children came into the system, but addressing any violence is important to prevent cycles of abuse from continuing. A child who witnesses abuse is at a greater risk of growing up to become a perpetrator or victim of domestic and sexual violence themselves. 

During training, a CASA will learn how traumatic experiences in a child's life can impact them in an array of ways. The good news is that children are resilient if they are nurtured and feel safe. Having a consistent, attentive adult helps children cope better and, as CASAs, we are committed to helping facilitate this healing.

For CASA volunteers, getting the best possible outcome for children means digging deeper than the circumstances that brought a child into the system. Whether it is violence that children experienced themselves or that they witnessed, it can have a profound impact on their well-being and their future. CASA volunteers need to know all of the traumas that their child has faced so that they can effectively advocate for the right services to help them heal. Having just ONE caring, trusted adult in a child's life can buffer the effects of trauma. That's why CASA is here for our local community. 
Resources:
Domestic Violence Crisis Line: 1 (800) 915-0045
The Haven - Serving Survivors of Domestic Violence and Sexual Assault
Terrebonne Parish Office Office Phone Number: (985) 872-0757
Lafourche Parish Office Office Phone Number: (985) 438-1238