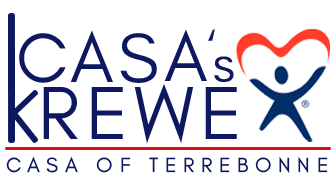 The goal for CASA's Krewe is to establish a dedicated and focused group of individuals that will support CASA of Terrebonne's fundraising, outreach, and marketing efforts. Krewe Members will work closely with the board of directors and staff to identify and pursue opportunities for fundraising and community engagement.
CASA's Krewe Members will help to continue to build a stronger foundation of support for CASA of Terrebonne, ensuring that the organization can continue to provide vital services and be better equipped to serve the needs of the children and families in our community.
Enrollment is free. Membership includes notice of all CASA's Krewe opportunities.
Together we will build a community of change for children in foster care in Terrebonne Parish. 
---
SERVICE OPPORTUNITIES
Community Awareness

Connecting CASA of Terrebonne to speak with groups, organizations, and businesses

Hospitality

Providing meals for volunteer Pre-service and In-service training, swearing-in receptions or special events

Outreach Event Staffing

Assisting in staffing booths and providing a presence at events or festivals

Gifting Assistance

Reinforcing CASA staff with gathering and organizing holiday gifts for CASA children.

Event Planning

Assisting the Board of Directors with planning in advance of fundraising or outreach events

Social Media/Marketing

Donating skills as a videographer, photographer, etc.